Skip to end of metadata
Go to start of metadata
Removing a Volume will delete the Volume configuration from this CDP Server. All backed up data will remain on the disk and the Volume folder is kept.
Removing a Volume is useful when you need to transfer it between Agents. After being removed on one Agent it can be imported on another. See Importing Existing Volume.
Follow the instructions below to remove a Volume in CDP.
1. Click on "Volumes" in the Main Menu to access the "Volumes" page.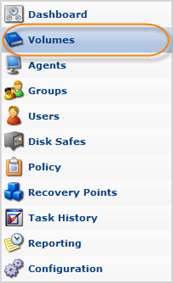 2. In the right top area, find a Volume and click "Remove" icon for this Volume in the "Actions" column.

3. Confirm your request to remove the Volume by clicking on "Remove" in the displayed confirmation window.

4. The Volume will disappear from the "Volumes" list.