Skip to end of metadata
Go to start of metadata
You may have full information about any running or finished Task in a separate .txt file.
Tip
You can download task log messages from the "Log Msgs" tab. See View log messages.
Follow the instructions below to download Task details to your PC from the Backup Manager.
1. Click "Task History" in the Main Menu to open the "Task History" screen.
2. In the "Task History" list, find the Task you need and click on the "Download Task Details" icon located in the "Actions" column of the Task.

3.The file name will have the following format:
<TASK TYPE>-<DATE>-<TIME>.txt
File name example:
policy-detail-2012-11-07-08-09.txt
4. The following window will appear. Choose either "Open with" or "Save File" option and click the "OK" button.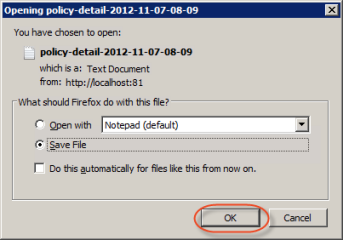 Tip
The Task results can be sent via email as a Report. See [Reporting].