Skip to end of metadata
Go to start of metadata
Removing a Volume will remove the Volume configuration from this Server Backup without deleting it. All backed up data will remain on the disk and the Volume folder is kept. Removing a volume is useful when you need to transfer it between machines. After being removed on one Backup Manager, it can be imported on another. See Import existing volumes.
Follow the instructions below to remove a volume in Server Backup.
1. In the Main Menu, click Settings and then select Volumes. The Volumes screen displays.
2. To remove a volume, click the corresponding Actions icon and select Remove Volume.

Tip
To find a volume, you can use the Basic or Advanced search option on the right side of the Volumes screen.
3. Confirm your request to remove the Volume by clicking Remove in the displayed confirmation window.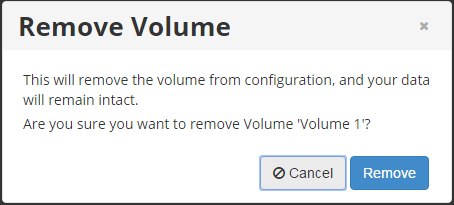 Notice
If your volume has any Disk Safes attached, a warning message will display. Click Yes to detach the Disk Safes from the volume before removing the volume.
4. A success message displays after you remove the volume. Click the OK button to continue. The volume has been removed, and will no longer display on the Volumes screen.