Skip to end of metadata
Go to start of metadata
VHD Format - About
A Virtual Hard Disk (VHD) is a common disk image format. VHD can contain files, folders, file system, and disk partitions encapsulated in a single file. The Virtual Hard Disk is capable of hosting native file systems while supporting standard disk and file operations. This virtualization file format is commonly used as a part of the Hyper-V feature of Windows Server 2008 R2.
Potential Uses of the VHD Format
VHD is typically used as a hard disk of a virtual machine. It allows you to deploy multiple operating systems on a single host machine. On the market, there are pre-configured VHDs with already installed software. Such VHDs enable you to evaluate different software solutions in your own environment without the need for dedicated servers or complex installations.
With VHD, you have the ability to directly modify a virtual machine's hard disk from a host server. This feature opens up advanced possibilities for:
Moving files between a VHD and the host file system
Backup and recovery
Antivirus and security
Image management and patching
Disk conversion (physical to virtual, and so on)
Life-cycle management and provisioning
Mounting VHD Files
To access files in virtual disk images, the VHD files must be mounted. Mounting VHD files could traditionally be done with PowerShell scripts. Windows 2008 R2 provides the VHD-related functions built into the Disk Manager. But simplified point-and-click attaching and detaching of VHD files can only be done with R1Soft Hyper-V VHD Explorer. It also provides a command-line utility (Hyper-V VHD Console) used for scripting and automating actions on VHD files.
Using R1Soft Hyper-V VHD Explorer
R1Soft Hyper-V VHD Explorer allows you to mount and dismount your Hyper-V Virtual Hard Disk (VHD) files. Explorer shell integration adds right-click "Attach" and "Detach" actions to .vhd files in MS Windows Explorer.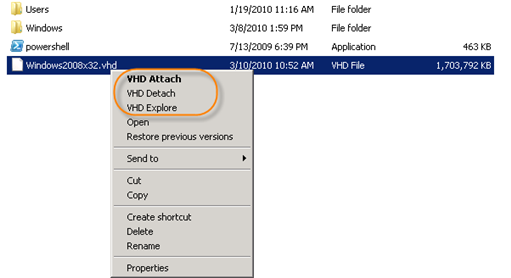 Use the Hyper-V VHD Explorer graphical user interface to manage all your mounted VHD files.
Note
Hyper-V VHD Explorer only supports Windows file systems in VHD format. Linux partitions will not be accessible.